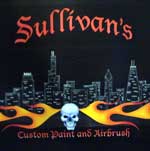 Hello there ...here are a couple of pics with your great stencils. Thanks again. Shawn
-Shawn does custom motorycycle and car painting.
...I want to thank you so much for the wonderful "Say What?" stencils. You see I have NEVER stenciled in my life before and I must say I kept putting off doing my project cause I was scared to death. But to my delight the whole project (as simple as it was) turned out beautifully and just took me such a short time. Thank you for doing a great job and having such a great product, so that us dummies can seem creative!-Blessings, Lucy from Wyoming!