Our NO FAULT GUARANTEE: If your lettering doesn't turn out as you expect, for any reason, we'll re-cut the problem portion (or the whole mask if necessary) at NO CHARGE, including standard shipping to US locations. (Express or international orders will be charged at current rates)


Return policy:

Because all SayWhat? lettering is custom cut to order, we cannot accept returns.
Pricing
Most orders are priced at 49 cents per inch ($5.88 ft). However very small and oversize text may run extra.
If overall height is over 15 inches there will be a 25% surcharge, as we have to use larger material Letters over 28 inches may be done in several sections. If you need VERY large letters, it's best to use our estimate form and let us double check the layout.
Letters under 1.5 inches overall are charged 50% extra, and may be sent unweeded.
Length of text under 12 inches is charged 50% extra
If letter height and length of text are both under the minimimum , the surcharges are combined.
Unweeded
Unweeded means we leave some or all of the cut letter shapes in the stencil, and you pull them out with an X-acto knife or tweezers just before painting. We find it works much better this way, as smaller pieces are hard to keep in place otherwise. It's not hard to do, but does take some extra time. The smaller or more complex the letter the more likely we will leave it unweeded.
In some cases small letters can be difficult to work with on highly textured surfaces; under 1/2 (.5) inches is getting too small for many, though not all, applications- contact us for additional information if you're not sure, we'd be glad to advise you, or even send a free sample to try out.
Back to top Close Window
• Design your own can preview one or multiple lines of text. For a single line, just keep typing. You can use the multi-line feature to order text in paragraph format, or if you want to order a number of separate lines in the same font and size, just type them in and hit enter after each line, no need to do a new order for each. Either way, each line will be cut as a separate stencil.
• If you want to add an author or tag line in a smaller font, click on the box just above the order button, or tell us in the special instructions, or just order it as a new line, usually at 1/2 to 2/3 the size of the main text.
• If have unique layout considerations such as wording that needs to wrap several walls, curved text, fonts not shown, or other special requests, please use our estimate form instead.
• Please check your wording for spelling, punctuation, and capitalization before submitting. SayWhat? Custom lettering is not refundable, and we are not responsible for errors submitted on the order form. If you catch a mistake before submitting the order, just remove the line and redo it, or if you write or call us before we process your order we'll be glad to make the correction. We will contact you should we have any concerns before filling your order.
. • We also highly suggest you read our Frequently Asked Question (FAQ's) before ordering.
---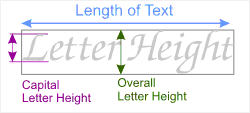 Explanation of letter sizes:
• Length of text is just that, measured from the beginning of the first letter to the end of the last. It's best to put in the length you want the text, and we'll calculate what the letter height will be. Or you can put in your preferred letter height (either overall or capital) and we'll show you how long it will be. If things don't seem to fit either way, use our estimate form, we'll be glad to help.
• For multi-line text you're shown the length of the longest line and the total of all the lines, but it won't show you the length of each individual line. If you need to know that, just re-preview line you want to figure, using the capital letter height. (see 'alternate technique' below
The capital letter height and overall letter height is calculated from the top line only, so it's possible on subsequent lines the overall letter height and capital letter height may be greater or less than listed.
Combined height of all the lines is the typical height of the all the lines if laid out as shown in the preview, and is listed for your reference. Each line is cut separately so you can enlarge this spacing GREATLY when you get the stencils, and you can usually go a little shorter if desired.
• The length and height figures shown are very accurate, however the final cut copy may differ slightly, as we will usually adjust the letter spacing to improve the appearance before cutting.
• Length and letter height are proportional to each other, so, for example, if you double the letter height, you will double the length of the text. We can manually adjust things a bit if the sizes aren't quite what you want, but we recommend you use our estimate form in that case.
• Overall letter height is measured from the top of the tallest letter- which is not necessarily the capital letters- to the bottom of the lowest point (like the tail on a lower case 'p' or 'g'). This is figured from the actual text you typed in (based on the top line). This figure is most important if you're working with a limited amount of vertical space.
Example: You have a soffit that's 9" tall, you should leave at least 1/2" clearance top and bottom so your overall height is 8" or less.
• Capital letter height is based on the tallest of the letters A, C or O would be in your selected font, whether or not your text actually includes a capital A, C, or O. Other capital letters may end up considerably shorter or taller than this, especially with the more "flourishy" fonts.
Back to top Close Window
Multiple lines:
If you're ordering several separate lines in the same font, and want to keep the letter size the same for each, it's best to use the multiple line feature, just hit enter or return after each line. You can preview the text either left, centered, or right justified, but regardless of how you preview it we will cut each line separately so you can lay it out however you want after you receive your lettering stencil.
You can also view the text in different screen sizes. This is just so you can see the text better on your screen or printed out, it has no relation to the actual finished size.
Add a smaller, separate author tag to put at end, or underneath:
Click on the box just above the order button, or tell us in the special instructions, or just order it as a new line, usually at 1/2 to 2/3 the size of the main text.
Back to top Close Window
Foreign and special characters:
You can include with your text any number or symbol you can make on your keyboard. However there are many "secret" characters available to those in the know. Here are the most common.
To include these characters, copy what you need and paste them in the "Preview your text" box where needed. The previewer may not show them, or substitute a different symbol, but they'll come through correctly on the text of the order, which is what we process from.
À à Á á  â à ã Ä ä Å å Ç ç È è É é Ê ê Ë ë Ñ ñ Ò ò Ô ô Ö ö ø Ù ù Ú ú Ü ü ¼ ½ ¾ ¿ ® © ‰ • – —
If you want characters not shown above, please use our estimate form and we'll do our best to accommodate you if you describe what you want.